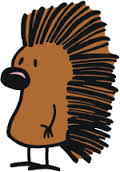 Alphonse is a needy porcupine who wants attention similar to that of dogs.
Personality
Alphonse is a needy porcupine, which annoys even Pig. When he is annoyed he "hugs" the person, as Pig and Rat have discovered. Also, if he gets no attention, he says he will commit suicide, but no one (especially Rat) cares. He even moved out and said he will not give anyone his number, but he will call them. He even said he would start a thing where everyone consults what they like about him, to which Rat detested. Rat was shown to hate him so much, that during The Sea Anemones's second attempt on Pig's life, Rat baked their bomb into a fruitcake, and gave it to Alphonse. However, Alphonse then passed it on to Chuckie.
Ad blocker interference detected!
Wikia is a free-to-use site that makes money from advertising. We have a modified experience for viewers using ad blockers

Wikia is not accessible if you've made further modifications. Remove the custom ad blocker rule(s) and the page will load as expected.