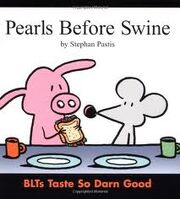 BLTs Taste So Darn Good is the first Pearls book. It was named after a line Pig said, "But BLTs Taste so Darn Good!" The book introduces most of the main cast (except for Guard Duck and members of Zeba Zeba Eata). It also features the extra six first comics for The Washington Post, as they requested comics a week earlier than other newspapers.
Ad blocker interference detected!
Wikia is a free-to-use site that makes money from advertising. We have a modified experience for viewers using ad blockers

Wikia is not accessible if you've made further modifications. Remove the custom ad blocker rule(s) and the page will load as expected.