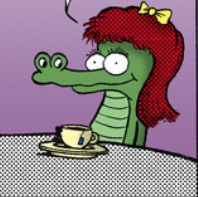 Leah was a female crocodile who was friends with Patty. During the period when Larry had the Socco Mocking Bird on his head, the two women had coffee at Larry's house
Ad blocker interference detected!
Wikia is a free-to-use site that makes money from advertising. We have a modified experience for viewers using ad blockers

Wikia is not accessible if you've made further modifications. Remove the custom ad blocker rule(s) and the page will load as expected.