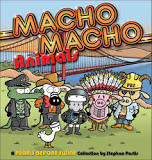 Macho Macho Animals is the 7th Pearls Before Swine book. It was released on September 1, 2008. The book contains strips from August 6, 2006 to May 13, 2007. The strips in this collection were also released in the treasury Pearls Sells Out.
Ad blocker interference detected!
Wikia is a free-to-use site that makes money from advertising. We have a modified experience for viewers using ad blockers

Wikia is not accessible if you've made further modifications. Remove the custom ad blocker rule(s) and the page will load as expected.