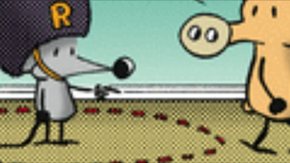 Ratopia was a country founded by and ruled by Rat . It briefly became involved in Guard Duck's War on Drama Cow when Drama Cow sought asylum inside it's borders. It was located in the middle of his and Pig's living room.
History
Rat founded the country for reasons unknown. He informed Pig of the boundary, and told him that he was the ruler of the small nation.
Ad blocker interference detected!
Wikia is a free-to-use site that makes money from advertising. We have a modified experience for viewers using ad blockers

Wikia is not accessible if you've made further modifications. Remove the custom ad blocker rule(s) and the page will load as expected.