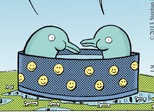 The Killer Dolphins were a duo of dolphins who killed numerous crocs. They were eventually killed by The Killer Whale, who was brought back from the dead to save Larry.
Biography
Introduction
Burt purchased the dolphins, wishing to swim with them. However, they instead killed and ate him. Later Zebra walked by, and the dolphins let him into their pool. Larry wished for the dolphins to kill his nemesis, but they preferred to toy with the croc, allowing Zebra to swim unharmed to the tune of 'Enya Songs'.
Another croc demanded to swim with Enya Songs, and the dolphins said yes. However, they ate him too, and remarked that they ''forgot the enya songs''.
Killing Larry

They then decided to get inside the ZZE Fraternity House, but mistakenly ended up at Larry's instead. To fool him, they put on disguise glasses. An unsuspecting Larry let them into his house, but became suspicious. One dolphin then claimed he was
Ad blocker interference detected!
Wikia is a free-to-use site that makes money from advertising. We have a modified experience for viewers using ad blockers

Wikia is not accessible if you've made further modifications. Remove the custom ad blocker rule(s) and the page will load as expected.