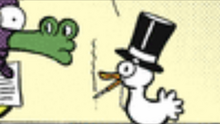 The Waterfowler was Guard Duck's supervillan persona. He was hired by The Fantastic Four, a group of three crocs, to help rescue Patty from Zebra. However, Guard Duck betrayed them, killing Paper Jam Boy while trying to fix a printer.
Personality
As the Waterfowler, Guard Duck is more sadistic than usual. After murdering Paper Jam Boy, the last member of the Fantastic Four, with a printer, he sarcastically remarks that he thought the instructions were "Kill Loner", a reference to PJB being the last member of the Fantastic Four, not "Add toner."
He also has a sensitive side, crying about Maura. This implies that her leaving him was what drove Guard Duck to don the Top Hat and monocle in the first place, and act as the Waterfowler.
Trivia
He is based off of the penguin from Batman.
This is the only time Guard Duck takes an official villain persona.
Ad blocker interference detected!
Wikia is a free-to-use site that makes money from advertising. We have a modified experience for viewers using ad blockers

Wikia is not accessible if you've made further modifications. Remove the custom ad blocker rule(s) and the page will load as expected.